LA RELACIÓN ENSEÑANZA-APRENDIZAJE EN EL DISPOSITIVO DE LAS "CONFIGURACIONES DIDÁCTICAS" DE LA ENSEÑANZA UNIVERSITARIA
Resumen
En este trabajo se realiza una indagación de los supuestos epistemológicos de la investigación en didáctica universitaria tomando como objeto de análisis la investigación desarrollada por Edith Litwin sobre las con guraciones didácticas (CD). Este dispositivo es construido a partir del análisis de algunas prácticas de enseñanza en el nivel universitario, mediante observación de aulas conducidas por profesores expertos en su área disciplinar. El planteo signi ca un aporte al campo de la Didáctica Moderna, en tanto hay un esfuerzo interpretativo de las prácticas de enseñanza; no obstante, se muestran una serie de debilidades teórico- epistemológicas ya que no se establece la distancia "necesaria" (en el sentido planteado por la losofía griega) entre el "objeto real" y el "objeto de conocimiento", poniendo en el centro la práctica docente como un objeto en sí, desconociendo el planteo althusseriano de que la teoría es la que con gura el objeto de estudio. El dispositivo de las CD se desplaza de un nivel analítico a un nivel prescriptivo de las prácticas de enseñanza, haciendo énfasis en una perspectiva de la didáctica de la mediación.
THE TEACHING-LEARNING RELATIONSHIP IN THE DEVICE OF "DIDACTIC CONFIGURATIONS" IN UNIVERSITY EDUCATION
Abstract
This paper is an enquiry into the epistemological assumptions of research on university teaching. It analyses research carried out by Edith Litwin on didactic congurations (DC). is device is constructed on the analysis of some teaching practices in the Social Sciences at university, by means of a series of classroom observations of lecturers with expertise in their area of study. is perspective is a contribution to the eld of Modern Didactics inasmuch as it attempts to interpret teaching practices. However, a series of theoretical and epistemological weaknesses are shown since the distance "required" (in the sense meant by Greek philosophy) between the "real object" and the "object of knowledge" is not well established. is is so, since it places in the centre the teaching practice as an object itself, in this way, thus ignoring the Althusserian perspective in which theory con gures the object of study. e device of the DC moves from an analytic to a prescriptive level of teaching practices, emphasizing the perspective of the didactics of mediation.
Keywords: University Teaching; Didactics; Knowledge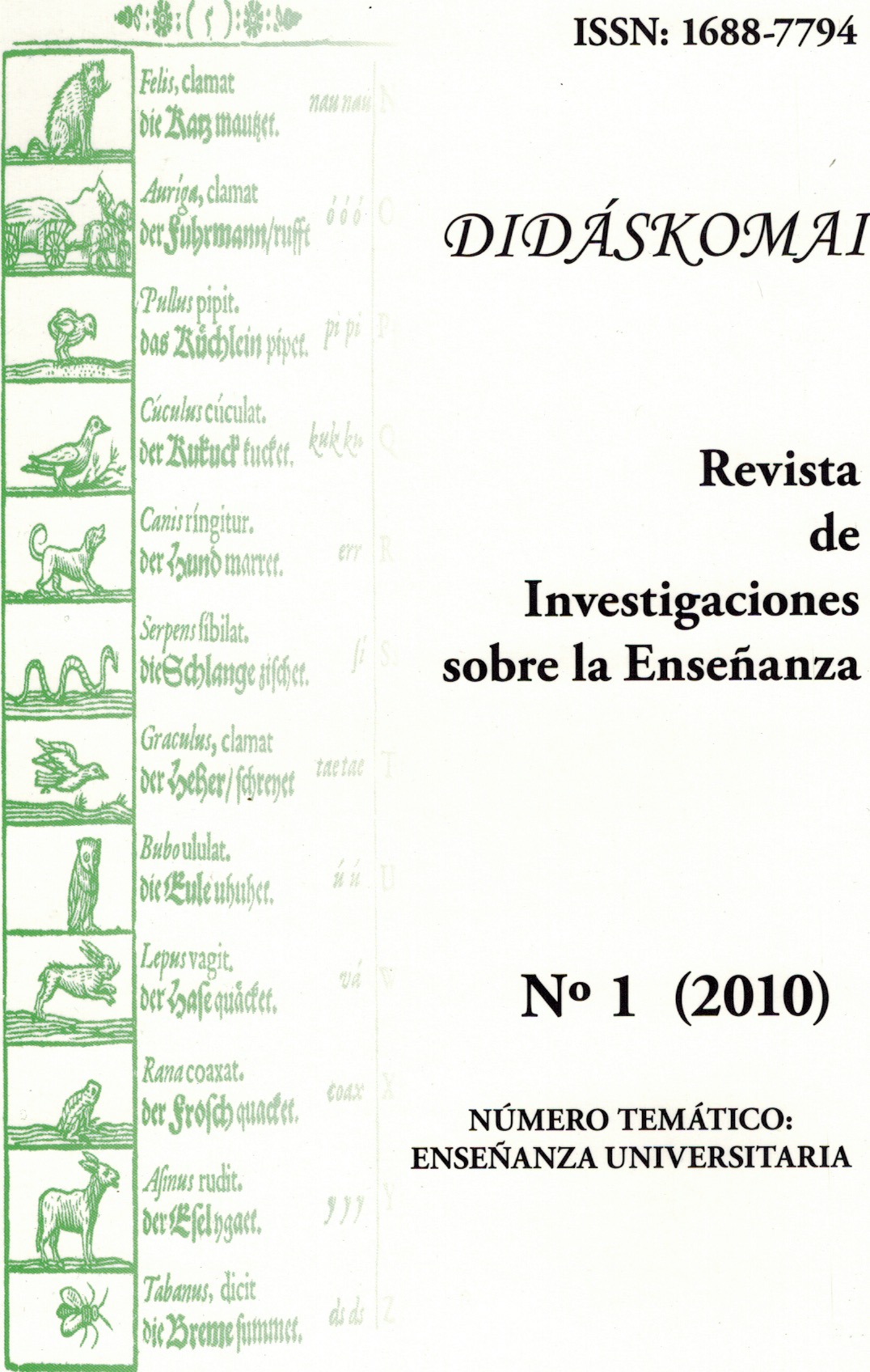 ##submission.howToCite##
DOGLIOTTI, Paola. LA RELACIÓN ENSEÑANZA-APRENDIZAJE EN EL DISPOSITIVO DE LAS "CONFIGURACIONES DIDÁCTICAS" DE LA ENSEÑANZA UNIVERSITARIA.
Didáskomai - Revista del Instituto de Educación
, [S.l.], n. 1, p. 57, ene. 2017. ISSN 2393-7297. Disponible en: <
http://didaskomai.fhuce.edu.uy/index.php/didaskomai/article/view/7
>. Fecha de acceso: 30 nov. 2022
Sección
Notas de Investigación
Artículo bajo licencia Creative Commons Atribución – No Comercial – Compartir Igual (CC – By-NC-SA): Permite usar la obra y generar obras derivadas, siempre y cuando esos usos no tengan fines comerciales y la distribución de las obras derivadas se haga mediante licencia idéntica a la de la obra original, reconociendo a los autores.